May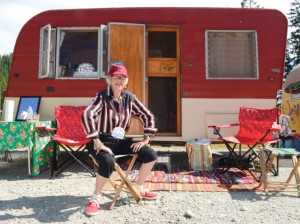 Morrison, otherwise known as  Mazie or the "Amazing Mazie," was the mother of Maurrie & Becky, founders of Sisters on the Fly.
She was an incredibly strong woman and as the wife of a U.S. Marine Corps Colonel, she traveled the world and had many stories about the places she visited and the things she did.
Mazie was an inspirational woman, especially to women looking for a role model. She was outdoorsy, community-minded, kind, feisty, generous, bold, outspoken, fun-loving and pioneering. Anyone who knew her loved her spirit and her mind.
To carry on her legacy, Sisters on the Fly started a foundation in 2015 called the MAZIE MORRISON FOUNDATION that grows through generous support from Sister members and general charitable giving and grants money and scholarships to women and children in need, in honor of Mazie, Sister #0, 1919-2014.