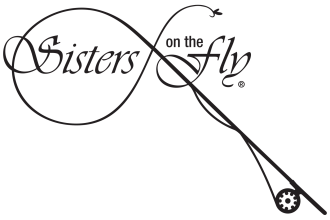 Sisters on the Fly®️ is the largest women's organization in the U.S., with a focus on the outdoors. There are members in all 50 states as well as a presence in Canada, Australia, and France.
The membership-based community supports women in their efforts to experience the outdoors with a style, color, and passion that's unique to Sisters on the Fly®️. The organization fosters a network of over 7000 actively participating women and an impressive calendar of events that take place all over the country, year-round. Sister activities (member-hosted "SOTF Events" and corporate-organized "GO Sister Trips") include everything from Girls' Night Out to horseback riding, camping, hiking, outdoor gathering, wine tasting, and most famously, restoring and touring vintage campers. Above all, Sisters on the Fly offers a safe and supportive social structure and culture for women of all walks of life to come together, enjoy each other's company and enjoy the great outdoors.
A Sister must be at least 21 years old to join but other than that, there aren't too many rules… except these:
"No men, no kids, be nice & have fun!"
We let go of  "no pets" to allow your furry companion to travel with you.  Please read over our current pet policy before you join, not all events are pet friendly.  Bringing your pet is at the discretion of the hostess or simply the rules where the venue is being held.  View our Pet Policy 
HERE
Pretty easy, right?
At Sisters on the Fly, we do not discriminate over race, religion, or sexual orientation and we do our best to leave politics at home. A member does not need to own a trailer, know how to fish, or know anyone else in the group to be included in events. She just needs a desire to be more active, adventurous, and social.
Come along for an adventure of a lifetime with SOTF. Simply register below and get ready to have "more fun than anyone!"
Sign up or renew: Our membership is $70 USD a year per member and grants you access to our conversations, member directories, business network avenues, calendar of events, and community of support.
IF YOU'RE JUST JOINING—- As soon as you fill in the form and pay the annual membership fee below, you'll be registered! You will receive a welcome email from our founder, Maurrie with more information to help you navigate the site. With this information you can find other area members & Wrangler(s), post to the message boards, register and show off a trailer (or tent, camping rig, cot!), create and attend events, reach out to Sisters and find Sisters with similar hobbies and interests.
Once you've logged in you will find your official Sister Number (yours for life) in your profile by clicking on MEMBERS' AREA tab for your own personal profile to pop up, or go to MEMBERS' AREA tab drop-down, then click on MEMBER DIRECTORY- type in your own name  & view your profile. Also, you will soon get a one-on-one welcome from your area's Wrangler. A welcome package with your official SOTF certificate, membership certificate, annual SOTF patch, and other SOTF goodies will be in the mail for you in the near future- be patient!
We're saving you a seat, Sister. See you on the trail!
Click HERE to Join