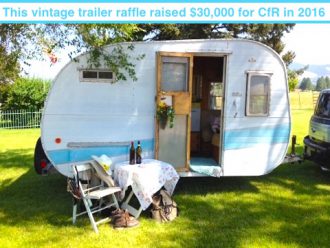 More times than not, Sisters on the Fly holds fundraising events within its organized events. Members use the power of their regional, national or global Sisters to support varying non-profit organizations. A big thank you to all the Sisters on the Fly for your hard work & huge hearts paying it forward and literally doing this under the "Banner of Sisters on the Fly!"
Members: send your fundraising event reports to tara@sistersonthefly.com
Below are recent reports from SOTF event organizers:
~Diana, Sister #3578 writes that donors outside SOTF contributed to this post-Hurricane Harvey Christmas Gifts for Students project, but it was still primarily a  Sisters on the Fly's effort and Sisters were the ones that made the trip and were represented in Bloomington. Here is an article to share and the recognition that Sisters got.  Note: there is a typo–they raised 40K, not 140K. READ ARTICLE HERE
~ Sister Lori K reported December 2017 that Casting for Recovery Kansas received donations from Cabela's for raffles and auction.  The Kansas area Sisters just finished tallying their total. Raffle items- Pink gear bag, Pink fly rod and reel, Pink spinner rod and reel $170 & Auction item- Kayak $200 for a grand total of $370!!! Awesome energy & effort all around!
~ Yea, Mid-Atlantic Sisters!!! SOTF member Judy Murphy reports that the Urban Glamp Out & Trailer Tour Event in Frederick, MD had a wonderful turn out (Oct. 2017). Through a raffle & other donations, they raised $415 for Casting for Recovery and CfR has an angel who then stepped up and matched the take, so the grand total for the day was $830!
~ Southern Idaho Wrangler Geri B reports that the 2nd Annual SOTF Birthday Celebration event, Sept. 2017, raised just shy of $2,000 for Casting for Recovery's Southern Idaho retreat in June 2018. The long weekend campout held a Mad Hatter themed dinner & auction night that was attended by SOTF members, Sisters on the "TRY" and Casting for Recovery volunteers, past participants and supporters.
~ The Idaho Organizers of the Annual Northwest Gathering, June 2017, report that over $17,752.77 was raised for Casting for Recovery's Northern & Southern Idaho retreat programs at the event's silent & live auctions. Many Sisters who are Casting for Recovery volunteers &/or past participants in the Pacific Northwest were there to cheer on this huge effort!
~ Marylou H & several Sisters on the Fly organized a SOTF-themed 2017 Calendar featuring Sister survivors of breast cancer & Sister owned vintage trailers. 300 of these gorgeous calendars were sold and about $2700 was donated to Casting for Recovery.
~ 9 Sisters at the April 2017 National Cornbread Festival in South Pittsburgh, TN, opened their trailers for a public tour. There were three vintage, two retro, a class A and a teardrop represented… all glamped up. There was a minimum $1 donation to view the trailers to benefit the local Marion County Children's Fund and $115 was raised.
~ Buffalo Girls IV Event in Texas donated $641.07 to the Casting for Recovery Program in Texas
~ Craftcation Event 2017 in  Texas donated $298.00 to the Casting for Recovery Program in Texas
~ Trackrock Event in Georgia donated $4,700.00 to the USO.
"I have never been prouder to be a Sister than I was today. We were able to present a check for $4700.00 to the USO at the Atlanta Hartsfield airport. We got to meet some soldiers and see just what the money would be doing. Thank you to all of the wonderful Sisters who came to our Trackrock event and helped make this possible." -Debra F.
~ Sisters on the Fly online vintage trailer auction raised $30,000 that was donated to Casting for Recovery as a national sponsor of CfR in 2016.
~ The 1st Annual SOTF Birthday Party 2016 event in Idaho donated $3,500 to the Casting for Recovery Program in Southern Idaho.