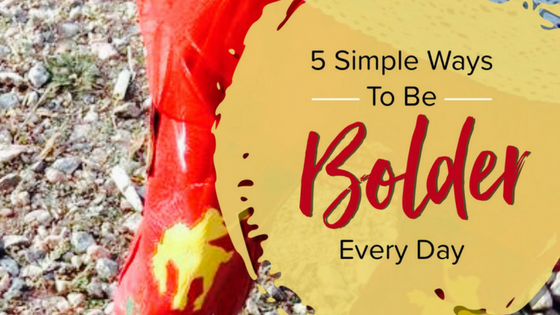 Five Ways to Be Bolder Everyday
I've always had an independent streak, but I wouldn't necessarily say that I was always bold. The passages of life have honed me into who I am today. The School of Hard Knocks can either wear you down to a smaller version of yourself, or it can sharpen your edges…and that can help you cut through some of the crap life throws your way. So far, nothing has cut me harder than becoming a widow at 59 just three weeks shy of my 6th wedding anniversary. I've lost people in my life, as we all have….my grandparents, my parents, friends. But none of those could have prepared me for the fire I had to walk through as a widow.
I remember when my personal blog changed to a grief blog. I truly needed a grief mentor…someone who could tell me what I was going through was normal. Finding my husband's secret stash of jelly beans and collapsing in tears. Facing financial decisions that would affect me for the rest of my life. Navigating the social changes widowhood created. When I headed out on my three-month grief journey into the wilderness and backroads of Colorado, I made a decision to BE that mentor I didn't have. I started writing an essay every single day, and have continued to do so for over four years. Sometimes you don't know what you believe in until you read your own writing. I think my blog has helped me more than it could possibly have helped anyone else. As they say, hindsight is 20/20 and I can look back with a four-year perspective that I wasn't afforded back then.
Grief doesn't come just from the death of a loved one. The sudden loss of a job or of your health can trigger grief. I have been through divorce in my life, and I have to say, there are ways in which divorce caused a grief deeper than any I have experienced. When my late husband died, there was a finality that could not be denied. With divorce, you have a bad "gift that keeps on giving". If you have children, there are holidays and weddings and grandchildren you still share. And if your heart is still broken, and your ex moves on and marries…well, let's just say there's a lot of grief that can come with that. I think my divorce actually gave me tools that helped me through the grief of widowhood. You never "get over" grief…but you do learn to navigate a path through it. My journey was made with the express intent to live a joyful, bold, exuberant life. There are as many ways to achieve that as there are people in the world. Here are five ways to be bolder every day that really helped me get through the changes I needed to make to adapt to a new life on my own.
1. Put Something Joyful in Front of You
Before my husband died, we had discussed buying a camper for retirement. As we stood in the fourth one the day we were picking one out, he had a heart attack and died. I had been reading about the Sisters and decided to order the first book even before the funeral. I couldn't imagine back then ever feeling joy again, but I knew instinctively that I needed something ahead of me to look forward to. Within two weeks after the funeral, I had purchased my first camper…still unable to feel anything but deep grief. By the time the snow had melted in the back country two months later, I was off on a life-changing journey. That simple action of choosing something joyful to look forward to saved me. These choices can be made every day on your path to being bolder.
2. Declutter Your Life
Whether it is cleaning out one closet or doing a drastic declutter like I did when I sold my house, lightening your load in life goes a long, long way to making your journey more joyful and gives you room for boldness. I know, there are many whose possessions mean everything to them and they can't imagine getting rid of anything. And, that's ok. However, I cannot tell you how much lighter my life became with every box and bag and truckload of stuff I got rid of. I kept those things that were dearest to me. I scanned and saved 10,000+ documents and photos into two separate external hard drives and shipped the originals to those who would love to have them. I made the decision to sell my house, buy a 30′ camper, and live on the road for a couple of years. Hindsight tells me I could have rented my house out and kept that asset, so keep that in mind when making huge decisions in downsizing.
3. Get Fit
Nothing deters you from living a bolder life like a sedentary lifestyle. I have always been a stress eater and I had let my weight balloon up to over 200 pounds by last spring. I was invited to speak at the International Conference on Positive Aging taking place in August and I got to thinking…"How can I talk about positive aging if I'm not aging positively?" I was fortunate to have a friend who was a personal trainer and I traded two home-cooked meals a week in exchange for working out five times a week. I stopped eating sugar, gluten, and fast food and dropped 40 pounds which I have maintained for the last year. I feel so much better, have much more energy, and am far more apt to drop everything and go outside to play than when I was sitting alone eating PopTarts and ice cream bars. Even little changes can make a big difference…just move.
4. Adjust Your Attitude
There is something to be said for maintaining an "Attitude of Gratitude". The power of positive thinking changes your core belief system. I began speaking life into my days instead of doom and gloom. I stopped saying "I'll never…" and started saying "When I…". This is NOT easy when you are grieving. There were days when I could do nothing but mattress surf, look at pictures of my dead husband, and cry like I would never stop. That was good. I NEEDED that. But there came a time when that no longer served me. From the beginning, I would never allow myself more than two days in my PJ's with a blanket over my head. Even if all I did was run a brush through my hair and pull on clean sweats to drag myself to the sofa, I had moved. I had accomplished one small thing. And small things build toward big things. Keep moving forward, dear ones. There is a big, bright, beautiful world out there and you WILL feel better again. You WILL feel like living. Just hang in there and make a choice every single day to get up. Make the bed when you get out of it…you're less likely to crawl back in it if both you and the bed are dressed. And scrub the kitchen sink the very first thing. You will be amazed at what that one single thing does for your attitude.
5. Join In
I have been a member of Sisters on the Fly for four years now. My first outing was a mere two months after losing my husband. I was SO scared. Excited…but scared. What if I couldn't hook up and unhook the camper? What if I got stuck someplace with a mechanical or medical emergency? What if my anxiety outweighed my strength? Getting Bolder isn't always easy. There were times I white-knuckled through dicey situations with my camper…like towing a 30′ trailer through 5:00 traffic in major cities or having a blowout in a remote area of West Virginia on a cold, sleety day or driving in the center lane of the interstate with an 18-wheeler on either side. Scary stuff, but each experience made me bolder, made me stronger, made me more confident in my newfound skills. Be prepared for emergencies. Get and keep a roadside assistance program. Maintain your vehicle and camper religiously. One of the most wonderful aspects of SOTF is the willingness of the Sisters to take newbies under their wing and make strong, courageous, fun-loving girls out of them. Diane Smith, Sister #16, did that for me. She was my first contact with the Sisters and I couldn't have had a better mentor. She taught me to back up like a boss, unhook and hook up again, and made me believe that just because my husband died, didn't mean I had. Making the decision to join the Sisters has been one of the most positive life choices I have ever made for myself. Continuing to maintain connections, joining in on outings, and now hosting my very first event this coming September (look for WV Riverboat Rendezvous on the SOTF website!) keeps me active and engaged.
Getting Bolder is a choice. A life changer. An opportunity to grow and learn and expand your horizons. And when you DO become bolder, don't forget to turn around and reach out your hand to those who come along behind you. There is something deeply gratifying when you hear a new camper say, "I could never have done this without your help!" I am so proud to be a Sister, a Girl Camper, a Glamper…a BOLD and POWERFUL woman. If you haven't joined…do. If you have…keep doing! Be BOLDER every single day!
Ginny McKinney, Sister #3537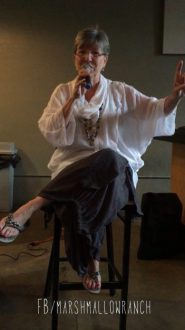 Follow Ginny, Author, Blogger, and Speaker at Marshmallow Ranch 
Stay tuned to this spot as we explore the transitions that we encounter in this march through life. I'll be featuring some amazing women as we discover the myriad ways we Sisters adjust to the changes thrust upon us. I hope you'll grab a cup of coffee and sit a spell by the fire with me.