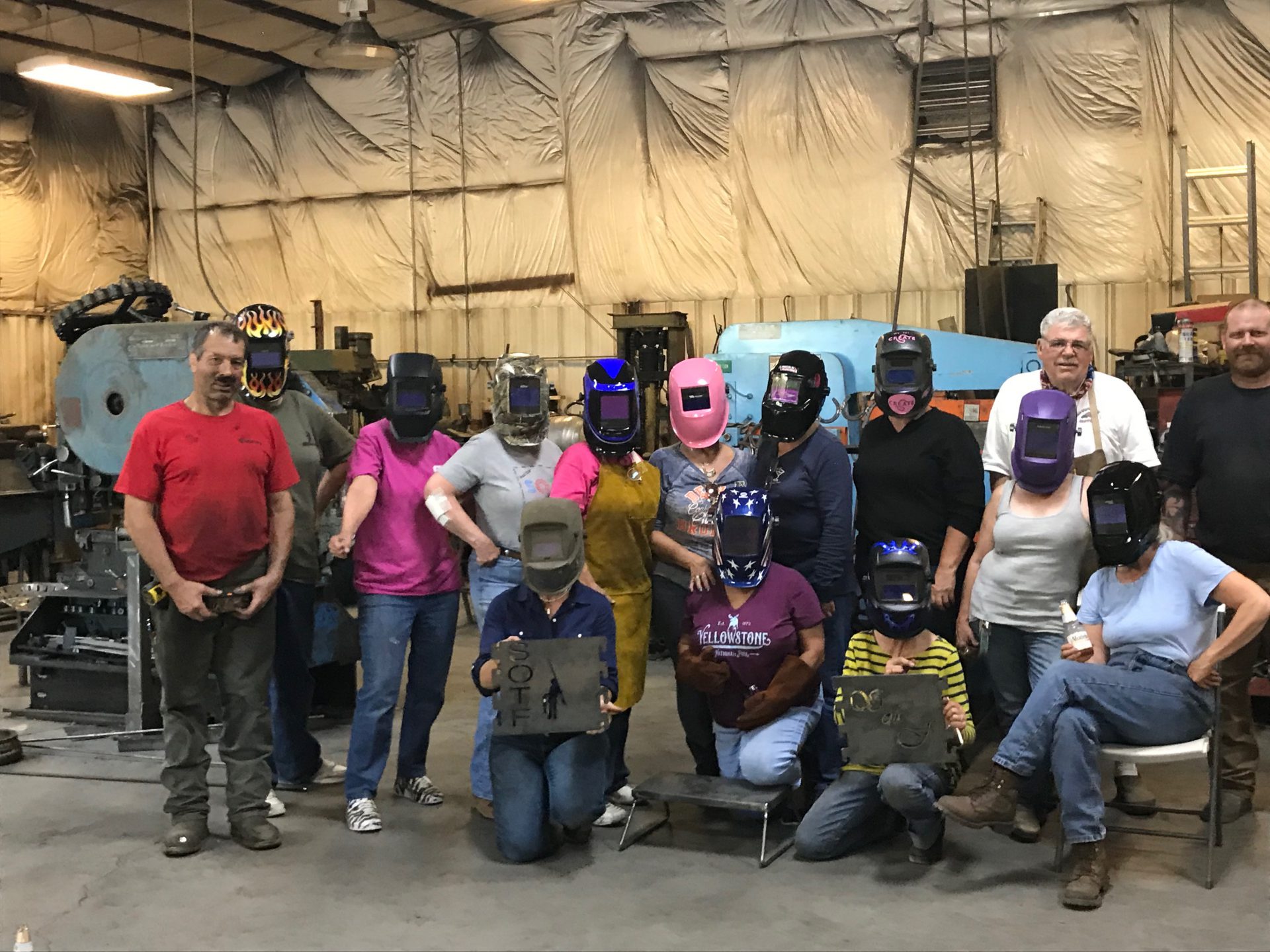 Women Who Weld! Learning Something New!
In this blog post, Maurrie Sussman, co-founder of Sisters on the fly, writes about the most recent SOTF event she hosted near her home in Montana.
Putting Pieces Together
Ever see a metal bucket and just know that this is a perfect fit to another piece of metal, and if we could just melt them together we could make a doo-dad that would be perfect on our gate or trailer?Well, we thought the same thing so decided to organize a welding class. Oh my! Now, we know how to do that after this very special class held in a welding shop in beautiful Absarokee, Montana!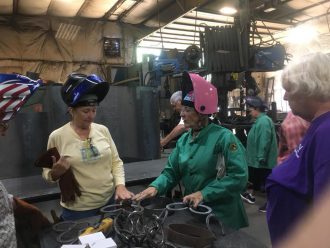 A New SOTF Event Created
At this two-day session, we truly had the time of our lives.  Talk about "Girl Power-" you could feel it in the air.  We indeed did it.  Not a problem here, not with our team of Go Get Em Girls. No slackers here for sure.
The Plan & Scope
The girls arrived on a Tuesday and brought their trailers and tents. I saw visions of circling around the fire pit but, no, we have independent thinkers, and it looked like someone dropped trailers from the sky. Kerplunk. Done.  (That gives you an idea of the mindset of our new crew.  No one decorated- just got out, put awnings and chairs up and were ready to get to know each other. No fuss, no frills women. I loved it.
Wednesday morning class started. We had more gear than we needed.  Girls brought extra stuff and shared.  My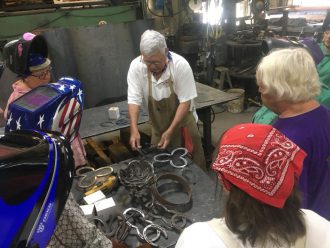 job was taking care of the group, cater lunches & breakfasts, run around in the ATV, and be jealous of the progress and the welding taking place.
Scott, the owner of Infinite Machine Metal Working & Welding, and his friend Bob taught girls the basics and then Wanda and Kaarin, who had learned from Bob, stepped in and helped with the simple stuff.  Mandi took over who, with her whirlwind personality, learned every tool and every possible configuration in a day. Sherry stood firm and helped with all the quiet stuff.  It really looked to me like girls in a NASCAR pit: everyone running full blast in different directions while learning, sharing, laughing and praising each other and their designs.
Horseshoes & Helmets
Horseshoes were the favorite go to and learn…Horseshoe bowls, trivets, boot pulls, gate décor, stakes in the earth,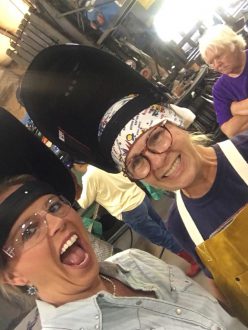 showing off your Sister number cut in steel… Me? Still jealous I didn't get to create anything being the hostess & go-fer for everyone.
The next day though, I got in the fray of activity and became one who zipped and zapped, learned to weld a pretty ugly bead line. But I did it, learned how to remove the splats of weld with a sanding machine with steel pad…and it polish it too.  Mandi and I learned how to color steel and how to cut designs free hand.  Oh what fun we had… It is great and women can handle this with no problem, just that the steel is heavy and very oily and dirty. But who cares about a little grease!
More Welding to Be Had
Next year we will have two classes, Welding 101 and Welding 201.  More control over projects and teams working together with a purpose.  We took up a lot of time and used a lot of steel that we did not order. But we had a wonderful time learning to weld.
For the other activities, we had tickets for a tour to Tippet Rise and 5 ATVs headed to the Beartooth Mountains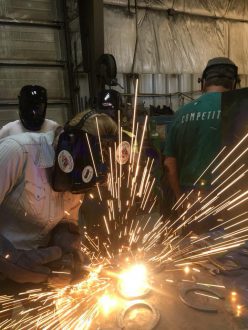 and had the most fabulous day..
The story does not end…. Come next year.