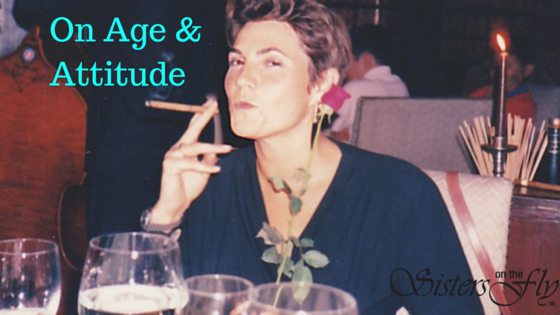 On Age & Attitude: Part 7
"Age is an issue of mind over matter. If you don't mind, it doesn't matter." – Mark Twain
What? Of course we mind! Aging men seem to get all the breaks. Aging woman? Not as much!
Twain's big old overgrown fuzzy mustache is now iconic. Sam Elliot, Tom Selleck and Burt Reynolds seem to wear crazy bushy eyebrows like a badge of honor. Us gals? Forget it!
My friends and I have resorted to attacking those unwanted facial hairs with electrolysis, waxing and laser hair removal. We all know society has a double standard when it comes to aging. Goldie Hawn, Meg Ryan and Melanie Griffith have learned the hard way!
Several years ago, my pre-teen son rode in on his high horse one day and declared that my dying my hair and putting on makeup was "lying." I said, "Honey, you can't handle the truth!"
I don't want to totally go to seed, physically, so I do what I can – within reason of course. When it comes to my body, I'm not trying to be a hero. And the rest of it? Well, that all seems to come down to finances. Go figure!
Instead of throwing out the bank, I choose to channel Georgia O'Keeffe, Judi Dench, and Julia Child. It helps me justify it. My wrinkles and sags bother me but I try to look beyond them. Knowing that my friends do see beyond them is a genuine help.
Here's the truth about aging: it doesn't matter how much cosmetic stuff a woman does to her body and face, you can still ALWAYS tell her age. It's in her eyes, her hands, her walk, her mouth, her voice, her stamina and her knowledge of trending technology.
The real beauty is in acknowledging that you DO mind and are instead doing things that matter to you. Stay active, get outside, hike, camp, swim, sing, walk the dog, garden, plan a trip, go to the gym. Get and keep a sparkle in your eyes. Laugh at yourself or laugh at Donald Trump! Act young and silly and goofy. Figure out how to be happy. Keep the love alive. Make a change. Entertain. Learn the guitar. Download a new phone app. Buy sexy underwear. Wax a new place!
I couldn't get through the aging process without good girlfriends to compare notes. We do keep aging. We do mind. But we don't let it consume us. We do things that matter instead. The lovely flowers we all were once are slowly going to seed. But we are perennials. We will keep growing.
Ceci Bennett, Sister #127
Ceci Bennet is step-mom & adoptive-mom to 3 boys; step-grandmother to 5 kiddos; and has been married for 25 years. She was a clothing designer for Ralph Lauren, Nautica, North Face and other design firms back in the day. Ceci currently works with SOTF as the "Website Wrangler" and for her husband's real estate group in Boise ID. At 56, she is learning guitar and getting back into tennis. She is passionate about fly fishing, hiking and doing creative things.