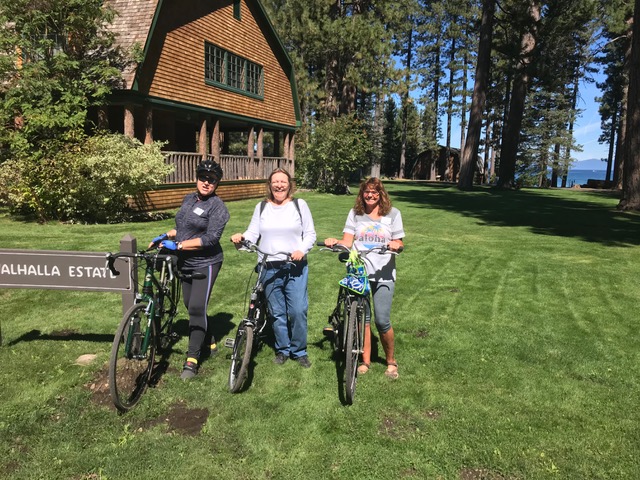 Event Recap: Lake Tahoe Adventure with Sisters on the Fly
We wanted to share this event recap that was published on the Gourmet Girls on Fire's blog.
Many women's groups and entities like GGonF share in the fun and sisterhood along with Sisters on the Fly and coordinate cooperative events with SOTF as is the case here. Sometimes they are Sisters on the Fly members but not always and not necessarily. We love just how into food and cooking, good eating and the great outdoors our Gourmet Girls on Fire friends are!
********
Greetings!
Gourmet Girl Gail here. I've written before about some of my adventures with Sisters on the Fly, and the Tahoe event is one I'll never forget. There were about ninety Sisters camping out at Tahoe Valley Campground in South Lake Tahoe, and Kim Matarazzo, our hostess and organizer, had some fun activities in store . . . from potluck the first night to the MS Dixie II Sunset Dinner Cruise to Casino night and a Sisters barbecue at Nevada Beach under the spectacular Pavilion.
…A special shout-out goes to Janice Schoonhoven-Rinehart who single handedly cooked the best pulled pork I've ever tasted. We're talking 80 pounds of pork butt that she pulled out of her freezer on her ranch to feed us all for dinner and enough leftovers for omelettes the next morning. I have to say, I really can't compete with that! And her sweet dog alerted Janice at 4 am to a bear in her campsite, trying to pry open her Yeti cooler! He wasn't successful, but . . .  I'm putting that on my list too. No, not the bear or the cooler (I've already got a Yeti), but the dog, yes! Speaking of bears, I awoke at 2 am in my campsite to the smell of one and it knocked into my Roadtrek (didn't enter, thankfully), but the next morning my camp chair had a big 'ole paw print on it. READ FULL BLOG HERE.
Photo credits: Gourmet Girls on Fire