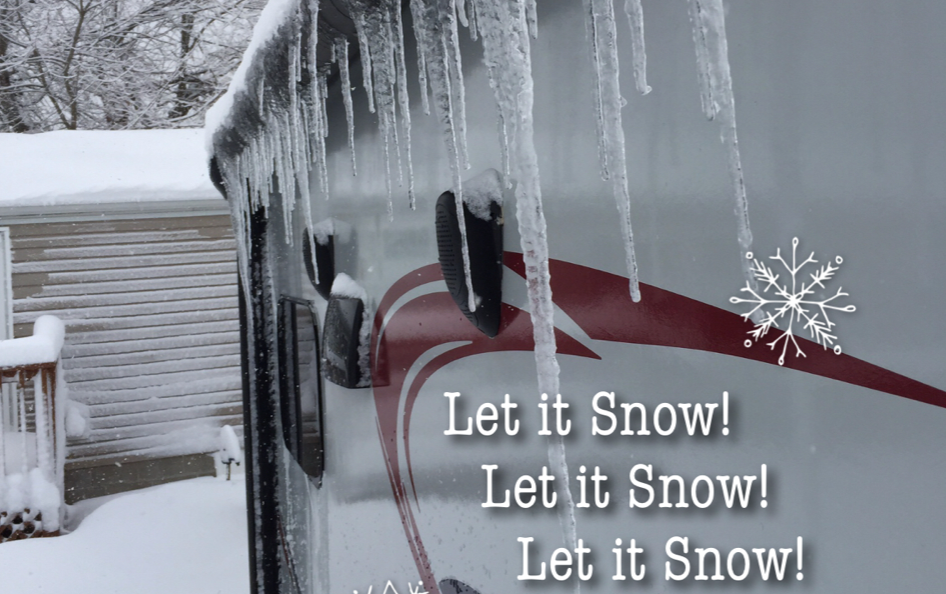 "Camping in a Winter Wonderland"
Posted by contributing blogger, Positive Aging Expert & Motivational Speaker,
Ginny McKinney, SOTF #3537    Marshmallow Ranch Blog
******************
This is the time of year most of us north of the Mason-Dixon Line dread so much…storing our campers for the winter. When I bought a little 16' Sportsmen Classic, I had been a widow all of three weeks. I bought her in early April 2013 in Colorado so I had to tow her over the passes in between spring snowstorms. I was scared to death. I hadn't had very much experience towing. When my mom died in 2004, I brought some things home in a 17' U-Haul and had to tow my Toyota on a car hauler cross-country…alone. I figured if I could do that, I could surely tow a little camper. Much to my amazement, that little gal tracked right behind me wherever I went. However, Colorado weather is entirely unpredictable and can change on a dime. I have seen four seasons in a single day in July and I've gone on a long bike ride in shirtsleeves at Christmas. The thoughts of towing in the snow terrified me. I don't recommend it…at all!
Maybe it was being a total newbie, or maybe it was "grief brain", but I took off for my three month solo journey through the wilderness and backroads of Colorado…again, alone…in early May of 2013. I carefully watched the weather and there was no snow in the forecast. I plotted my course to cut across the state diagonally and head towards the Four Corners area. This route avoids the interstate, but there were still passes to go over…only this time it was on a two-lane blacktop. The higher I got in the mountains, the heavier the sky looked. The further I traveled, the more the wind blew. I always travel with a Smart Phone so I can check up-to-the-minute weather reports. But, I was so far into the high country, I couldn't connect to the internet. I kept making phone calls to family to have them see what I was driving into. It wasn't long till the report wasn't good.
It was too late to turn around and if I timed it just right, I could make it to my first destination before the heavier snow started. As I drove across South Park, I had my first real-life lesson in driving in the wind. I had a sway bar attached and that kept me from getting into too much trouble. The scariest part was going up over Poncha Pass. The wind blew the snow sideways across the road and at times the visibility was so low I was creeping along with my flashers on. Miraculously, the snow didn't stick enough to be slick and I made it over to a campground near Salida for the night. The next day, I drove on and camped on ten acres my friend owned near the little town of Dolores, overlooking Mesa Verde. I woke up to four inches of snow and was much relieved to be staying put for a few days.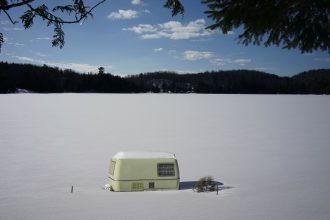 When winter came around, I had to find a place to store the camper because of HOA restrictions. There was an open field near the Garfield County Airport that rented space for trailer storage and it was minutes from my house. I had come to hate that house. Every time I came around a corner, I was struck with a memory of my late-husband. It was emotionally exhausting living there. I remember sitting at the kitchen table one afternoon, crying my heart out. I needed TOW-Wanda. I needed the comfort and peace I felt when I was safely tucked inside, propped up in bed with a ton of pillows and quilts all around me.
That little trailer had become my safe haven. I made a rash decision, bundled up in my warmest winter gear, and drove over to the storage area. The snow was too deep to drive in so I parked down at the road. I sat there for the longest time, staring at my most prized possession, perched high on a hill, about two hundred yards away. I made up my mind…I had come this far, I had to go on. I made sure my cell phone was charged up and that I had service, I grabbed a flashlight and a bag of energy bars and bottled water, and took off up the hill.
The snow in the field was up to my hips! Why didn't I bring my snowshoes? "Next time." I thought. I slogged my way up…on and on…till I finally got to the camper. I checked the vent around the heater to make sure it was clear. Then, I stomped down the snow all around the stairs and made my way inside. I quickly turned on the furnace, jumped into the bed and got under my downy comforters and quilts and it wasn't long till I was warming up. The relief I felt as I settled in was indescribable. I cried gut wrenching sobs just as I had done on the lone mountaintops when I was communing with God in the lonesome stillness of the pine forests earlier in the year. And then…a peace came over me. I was "home". Oh, yes…I had a house. But this little camper had become "home" to me. I turned over, pulled the covers up over me, and fell into a deep, restful sleep. It was the best sleep I had had since storing TOW-Wanda for the winter.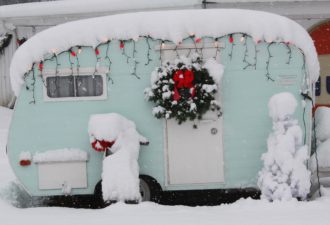 After that cold, December day, I went to visit TOW-Wanda every Sunday after church. I took a thermos of hot cocoa and sandwiches, a stack of magazines, and spent hours up there on that knob. Sometimes I had to slog through the snow, but as winter began to weave its way into spring, the snow slowly melted away and it was soon time to bring my baby home. The following fall, I sold my house and traded the little camper for a 30' behemoth and headed to West Virginia. I lived on the family farm for awhile then moved on to a cliff overlooking the Ohio River. Now, THAT'S where my true winter camping adventure began!
My new camper is a 2015 Starcraft Launch UltraLite. It is definitely NOT a four seasons camper, so I had to winterize it before the hard freezes came in late October. I did not have running water for six months! I used large containers of bottled water for cooking and "French bathing". I heated with propane to the tune of two 30 gallon canisters every week to ten days. I joined Planet Fitness to work out, socialize, and shower four or five days a week. It was an extraordinarily rough winter in West Virginia in early 2015. A foot to a foot-and-a-half of snow with windchills well below zero. Friends begged me to come stay with them, but I was on a mission at that point. I had to prove to myself I could do this. I had to be strong.
One particularly bad weekend, I opened the fridge and everything was warm. I had just stocked up with food a few days before and now it was all ruined. It almost broke me. I sat on the edge of the bed and thought about my options. Only one sounded good to me…a hotel! I grabbed an overnight bag and my laptop and headed to town. I checked into The Blennerhassett Hotel in Parkersburg. I explained my predicament and that I am a writer and needed a quiet place…preferably with a bathtub. They gave me a heck of a good deal and I stayed in a lovely suite with goose down comforters and took a dozen bubblebaths and ordered room service. I was a new woman after two days of civilization!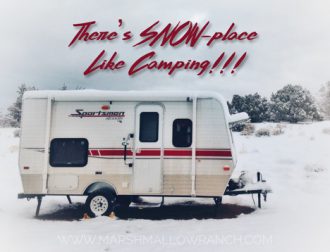 When spring came, I threw open the windows of the camper and listened to the peepers (tiny pond frogs) and made my plans for a summer of camping in Colorado. I don't know if I have it in me to do that again. Aside from burying my husband, that was the toughest physical challenge I've ever accomplished. I'm certainly glad I did it, though. I came out stronger, wiser…and much, much BOLDER! 
Ginny