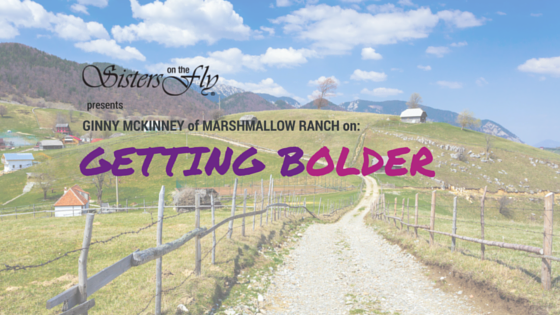 Getting Bolder: From Princess to Queen
"I'm not a princess…I don't need saving. I'm a queen…I got this!" – Anonymous
 One of the things I love the most about the Sisters is how quickly we stand up for one another. The other day, I was browsing Facebook and was on a page dedicated to women who love to camp. Someone posted the following question…"Is Sisters on the Fly really worth the $70 membership fee?" Sister after Sister commented how much they get out of their membership…"It's $70 well spent!"…"It's an investment in yourself and you're worth it!"…"I have great memories!" I've seen others post comments that it is singularly the most important self-care decision they have ever made and I couldn't agree more.
I was especially taken with the response by Rachel Reid, Sister #5568. Rachel commented that she doesn't have a fancy, schmancy job (she works at K-Mart) and she felt she wasn't able to tow her own camper. She has made wonderful friends, she has never felt pressured to do something she didn't want to do, and she always comes away from events with a "huge smile, full belly, and a ton of funny stories." Rachel joined the Sisters on the Fly in 2015, so she is relatively new. It took a lot for her to spend that $70 to join when she knew no one. She was working two jobs and wearing herself out…self-care was way down her list of priorities. But you know what they say…"All work and no play makes a girl cranky!" Her daughter had left for college in the fall of the previous year and she found herself feeling a little empty. How many of us have been there, right? Rachel met Nancy Eads, Sister #4520, through another glamping group during an online Christmas exchange. Nancy told her she was a Sister and encouraged her to join. Oh, Rachel loves all those vintage campers. The fact that they are dressed up like doll houses for big girls was very appealing to her. But that $70 loomed in front of her. Finally, she decided to take the leap and join. She went to her first even in the Fall of 2015…the Buckeye Bash. Rachel went by herself, totally stepping out of her comfort zone. She rarely traveled alone. She met Nancy face-to-face for the first time after corresponding for months through e-mails and Facebook. Not surprisingly, they really hit it off. We all know that feeling!
As so many Sisters experience, Rachel felt empowered after her first trip with the Sisters. She was going crazy trying to decorate her '77 Airstream…her 27 foot personal doll house she calls "Pricilla". She gets to take her to this year's Buckey Bash in Logan, Ohio at the Hocking Hills KOA. (Sorry…this year is full. You've got to sign up early for this fun gathering!) She was greeted warmly by the event hostess. She was sure she had that deer-in-the-headlights look most newbies have when they go to their first event. She thought to herself, "Boy, what have I gotten myself into?" She soon felt at home and that night she sat around the campfire with everyone else, laughing and carrying on.
"I personally think the Midwest Girls are the best! I became instant friends with them all." Rachel said when I interviewed her. "The day of the camper tours, I so excited. I couldn't sleep the night before. Nancy and I stayed up late giggling like a couple of school girls." Oh…we do have more fun than anyone, don't we? Rachel went to the Christmas party and the Sisters sat there talking for hours. Her first event this year was Saddle up in Pigeon Forge…another event I have on my bucket list. She went to the Cabela's event in Tennessee. Her best friend, Tera Ashby, Sister #6685, took her to the Kicking Back event at the Lake for her birthday just a couple of weeks ago as a surprise. Rachel bought Tera her membership as her birthday/Christmas present. Now she's hooked, as well! Rachel has lots of colorful stories, but you know…what happens with the Sisters, stays with the Sisters! She almost had a Bigfoot experience at Buckeye Bash. I want to know more about that! She saw a bobcat at the Pigeon Forge event. In Columbus, she hugged a bear. OK, it was mounted…but still, a bear! She also has gone ziplining with the Sisters. These are all amazing adventures Rachel would never have had if she hadn't taken that big step, invested in herself and joined such a wonderful group of women. "You never know what you're going to get into!", Rachel exclaimed.
We've all gone to Sister events and have seen the gals that put themselves out there. They are brave and wonderful and they sparkle. And, there are those who keep their tiaras under wraps. Maybe they are just a little shy. Maybe they are going through something difficult that we can't see. Maybe just being there took absolutely every shred of courage, and money, they could gather. I always try to meet everyone at an event and make sure every Sister feels included and welcome. That's one of the very best things about Sisters on the Fly. We are inclusive. It doesn't matter if you work at K-Mart or if you retired as a CEO of a major Fortune 500 company. We all put our boots on, one foot at a time and we are equal around the campfire.
When I went to my first Sisters event, I was a very new widow. One of the things I remember the most was Diane Smith, Sister #16, greeting me. She was welcoming and made me feel I was born to be a Sister. She talked me through my first parking job…teaching me how to put my hands on the bottom of the steering wheel and push my elbows in the direction I wanted the rear end of the trailer to go so I could back into the perfect spot by the river. She talked me through unhooking and setting my jacks. She introduced me to half a dozen other gals and I was off and running. We all have an afinity for our first Sister friendship. Diane will always be that special Sister-friend to me.
We all have different stories of how we came to the Sisters, but there's one thing we have in common. We aren't princesses…we don't need saving. We are queens…we've got this!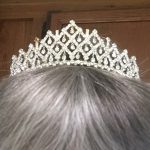 Ginny McKinney, Sister #3537
Follow Ginny, Author, Blogger, and Speaker at Marshmallow Ranch 
Stay tuned to this spot as we explore the transitions that we encounter in this march through life. I'll be featuring some amazing women as we discover the myriad ways we Sisters adjust to the changes thrust upon us. I hope you'll grab a cup of coffee and sit a spell by the fire with me.