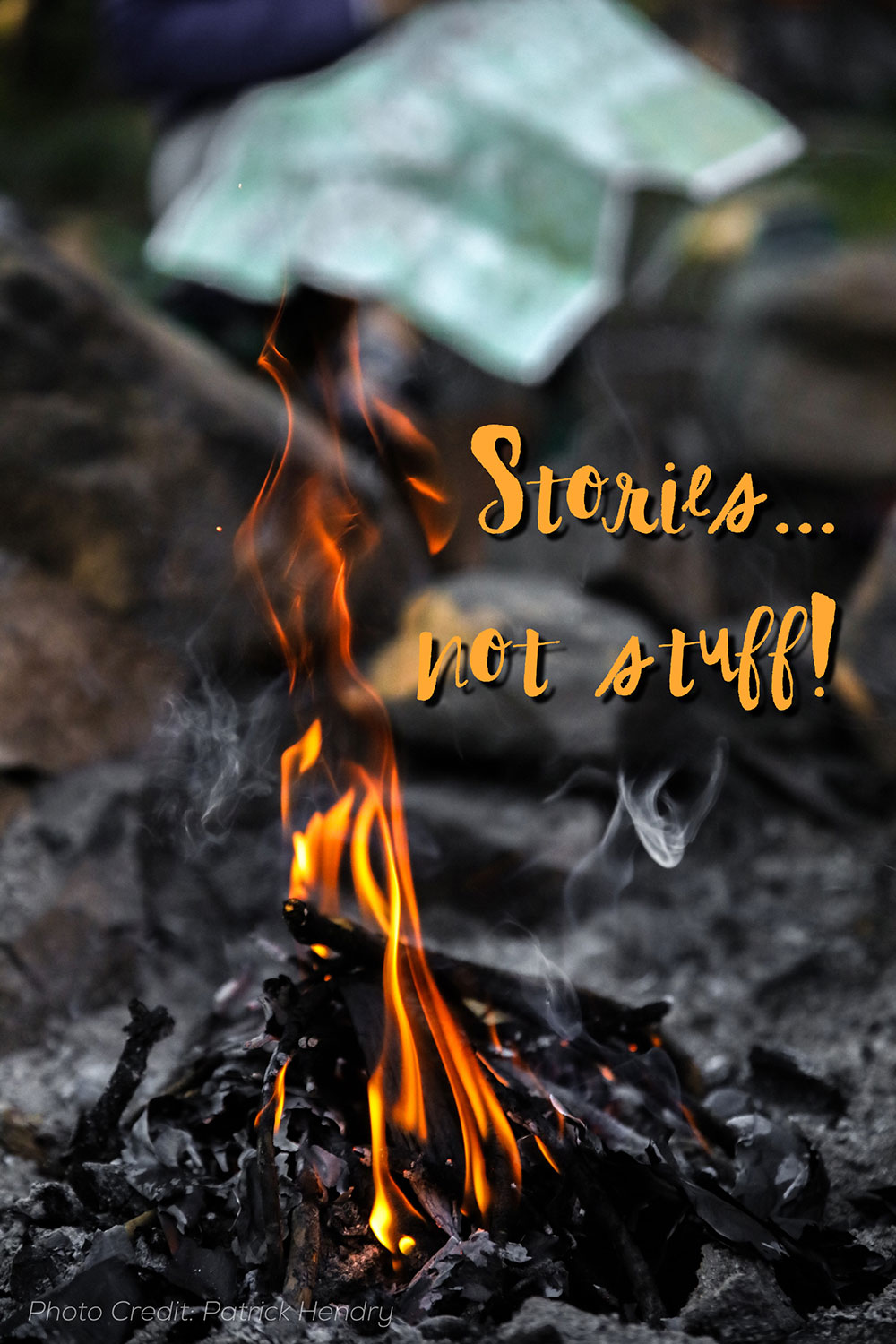 Getting Bolder: Stories…not Stuff!
Not long after my husband died suddenly, I decided to move forward with our plans to have fun in our retirement. I felt I owed it to his memory to continue on and buy a camper. After all…we were standing in one when he had his fatal heart attack. The first thing I did was take off and spend three months in the wilderness and backroads of Colorado. It gave me a lot of time alone to think. I needed to evaluate my life…my legacy. Death makes you do that.
I was living in a two-story, three-bedroom home in a semi-rural area of Western Colorado…working part-time, filling in the blanks with my creativity. I had started a small business in my art studio in my home and was creating jewelry from antique silverware and maps. I had an Etsy shop and a Facebook page and was developing a small following when my husband died. We had just refinanced the house five months before with plans to double and triple our mortgage payments, hoping for a payoff in less than ten years. Instead, I was faced with less than one-tenth the income and a mortgage that wouldn't be paid off till I turned ninety! I had no idea what to do.
I had always deferred financial matters to my husband. I was visiting with guests in our home after the funeral when a friend overheard me say I needed to start formulating a plan….soon! The next day I received an e-mail from her. She said she didn't want to intrude, but she couldn't help but overhear my dilemma and wondered if I had anyone helping me with my finances. My friend was widowed a few years before, so she knew what I was facing. I was so relieved and immensely grateful. She offered to set up an appointment for me with her financial planner the following week. I met, and immediately bonded with, my new financial planner. She specializes in women in transition…especially women who have suffered a loss. Getting my finances in order was the first step to transitioning to this new life I had not planned for. I met with my planner monthly for the first six months, learning about budgeting, retirement, IRA's. She helped me learn to be a good steward of my money.
As winter wore on and I worked on my art, I began to really notice the clutter around me. I've always been a pile maker and the "keeper of things". Living those three months in a sixteen foot camper made me realize I really didn't NEED all this stuff around me. Everything began to weigh me down and I felt burdened by the very things I could never part with. This was new! My piles, and the resultant clutter, had been a thorn in my Virgo husband's side all along. Ironic that I should rid my life of all this after he was gone.
I had a small life insurance policy and once the bills were paid, there wasn't a lot left. The mortgage wasn't huge, but still…it was debt and I wanted out from under it. As spring approached, I decided to sell my home and downsize. Stepping away from the familiar, letting go of collections, releasing my stranglehold on a life I could no longer afford took an immense amount of courage. I realized there were two ways of looking at this…that I was losing my past or that I was gaining my future. I needed to lean into the future, trust my gut, and BE BOLD!
It was Easter weekend when I made the decision to sell. It was my birthday in mid-June when I finally had the house ready to put on the market. I worked through one room at a time, purging years of accumulated possessions. I cannot tell you how many times I sat down in the middle of the floor and cried…mourning not only my husband, but the life we had planned, the future I was sure I was going to live. One afternoon, I was going through the spice cabinet, throwing away long outdated items, tossing too many duplicates to count. When I removed the items from the front of the middle shelf, there was my husband's secret stash of jelly beans. It was too much. I laid my head down on the counter and wailed. It wasn't fair. This was MY house…this was MY stuff. I wasn't feeling very bold at that moment but still, I persevered. I filled carload after carload of clothes that didn't fit, tchotchkes I didn't want to dust anymore, baskets, collectibles, Christmas decorations, art supplies, golf clubs, Stuff, stuff, stuff. Then, the magic happened. I felt lighter…free…unburdened by the weight of all the things I loved. The things I owned, I really HADN'T owned. They had owned me. From that moment on, I worked with great fervor…ridding myself of anything that didn't serve me in this new life I was creating.
Once the house was on the market, I moved into my camper. I didn't like the house anymore. My husband "lived" around every corner. Besides, I had worked really hard to get it showcase worthy…I didn't want to clean and re-clean over and over. I took off with my little home on wheels for a week or two at a time, returning only to change the fresh-cut flowers on the table and check the mail. After a couple stalls, the sale was finally completed and I was liberated from the albatross my house had become.
I immediately traded in the sixteen foot camper for a thirty foot and left Colorado. I lived a nomadic lifestyle, traveling 55,000 miles over the following two years. I lived here and there…on a farm, on a cliff overlooking the Ohio River, in the backyard of my son-in-law's parent's house, in campgrounds from South Dakota to South Carolina and all parts in between. A year ago, I was traveling cross country to attend my high school reunion when I received a call. My elderly aunt wasn't doing well and couldn't live alone anymore. My uncle took her to live with him and asked if I could live on the family farm and take care of it for him. It's the home of my heart…my grandparent's farm in the hills of West Virginia. A small, two-bedroom, simple farmhouse on seventy-four acres with three barn cats and a passel of possums. It's more roots planted than I've had since I sold the house and I am being exceedingly careful about accumulating more "stuff". I still remember the pain of downsizing and don't want to go through that again.
I'm still a nomad, of sorts. I travel a great deal. The thirty foot camper is a pain to haul for just little weekends away so I did buy a project trailer…a 1967 Franklin. I want to have it ready by next summer. I'm at a place in my life where I am unencumbered and now my preferred collectibles are stories…not stuff!
Ginny McKinney, Sister #3537
Follow Ginny, Author, Blogger, and Speaker at Marshmallow Ranch 
Stay tuned to this spot as we explore the transitions that we encounter in this march through life. I'll be featuring some amazing women as we discover the myriad ways we Sisters adjust to the changes thrust upon us. I hope you'll grab a cup of coffee and sit a spell by the fire with me.