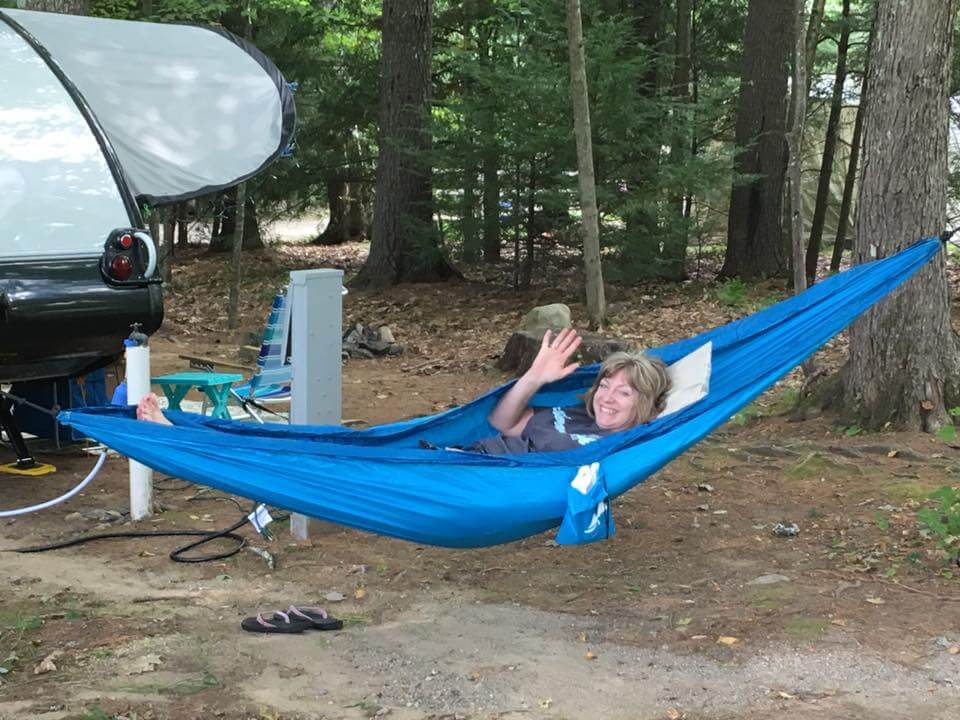 Sister Spotlight: Time is precious for this Road Warrior!
I have worked in an office as a legal assistant at a law firm for 23 years. Now, the older I get, the more fresh air I crave!  
Living in the Northeast my entire life, I appreciate every moment of time I can have outside.  Favorite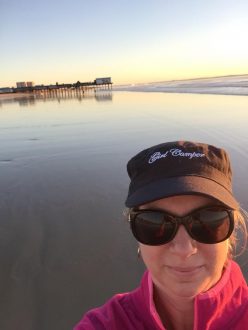 pastimes while camping are laying in my hammock with a good book, riding my bike and taking long strolls.  Another happy place is in my kayak.  I love to paddle long and far to wash away all the stress. I have recently acquired a love for yoga and the inner peace it gives me as well as the physical health.
My favorite motto is "Time is more precious than gold."  I try to live by this to collect memories, not things.  When I joined Sisters on the fly I would constantly tell the Sisters, "I'm a Camper, not a Glamper." And yet each trip I take with them finds one more decoration on or in my trailer.  I also said that about dressing up for events, but I have found that it's lots of fun!
I have been a camper my whole life and have always had a love for it.  My daughter refers to me as a "professional camper."   My kids grew up spending their summers tenting in Vermont State Parks, swimming in the lakes, riding bikes until sunset and then counting the stars or roasting s'mores.  Now that my son is grown, he still chooses to vacation with his tent.  Button Bay state park along the coast of Lake Champlain is still my most favorite place to be.
I had never heard of SOTF until one cold November day when an attorney in my office told my about his wife's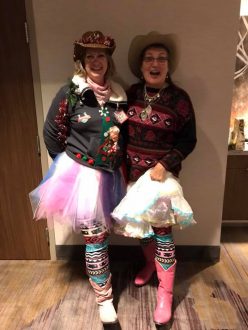 friend who was taking this fascinating trip along the Lewis and Clark trail with a group of women. He said, "You should check it out, Tanya. They are your kind of women!!"  He was so right.  Joining SOTF has been so fulfilling for me. None of my local friends like to camp, so finding a group of women who love it as much as I do has been so exciting. While joining a fellow Sister on her maiden voyage in her newly purchased camper, my 18 hours with her was eye-opening. That's when I learned how glorious it was to camp without my family!  
A Sister is a Sister
Not having a biological sister of my own, I have thrived on having a Sisterhood.  It's amazing how bonded you are to Sisters after you have just met after spending a weekend together.  When my son found out he was going to be stationed in Texas, I asked to join the Texas Sisters group Facebook page and one sister immediately reached out to me to give my son her number.  4 days after he arrived in Texas she picked him up at the Navy base, showed him all over town, where the best place to get a burger was and even took him apartment shopping!!  She will forever hold a place in my heart.
I recently towed my tiny trailer from upstate NY to Texas with my daughter while she was on spring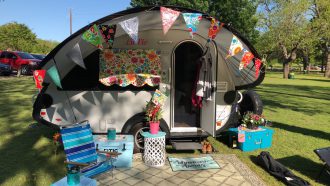 break to visit my son and attend the SOTF event Wonderful Women of Waxahachie.  At one point my aunt, exasperated with worrying about my cross country wanderings said "you're just like your grandmother!"  I gladly accepted that as a compliment. One of my many highlights on this trip was teaching my 16 year old daughter to tow.  Because we were traveling over 1,200 miles I wanted her to know what to do in case of an emergency. She was elated and so proud of herself! I feel it's something everyone should learn how to do, just like driving a standard transmission.  
My grandmother was a "Girl Camper" before it was popular.  She was a truck loving lady who towed a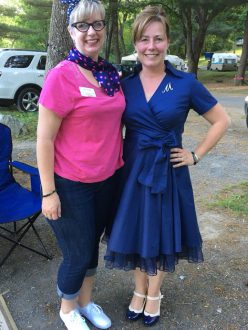 small Frolic camper and would take me camping with her.  To this day I cherish those memories.  She has always taught me women can do anything we put our mind to!  My camper is named Lil Viv after my grandmother and a reminder of our times in her little camper.
I still have a teenage daughter at home and my sweet-strong-willed elderly grandmother to care for so I'm a still pretty much a weekend warrior at this point, but I know my day will come where I will be setting off in  my tiny trailer for weeks at a time to explore our beautiful country.  My bucket list is long!! Until then, I treasure each moment I can squeeze in this crazy life, especially ones with my Sisters.
Tanya Forrest # 7926
Sisters on the fly
Northeast Wrangler for NY, MA, CT & RI