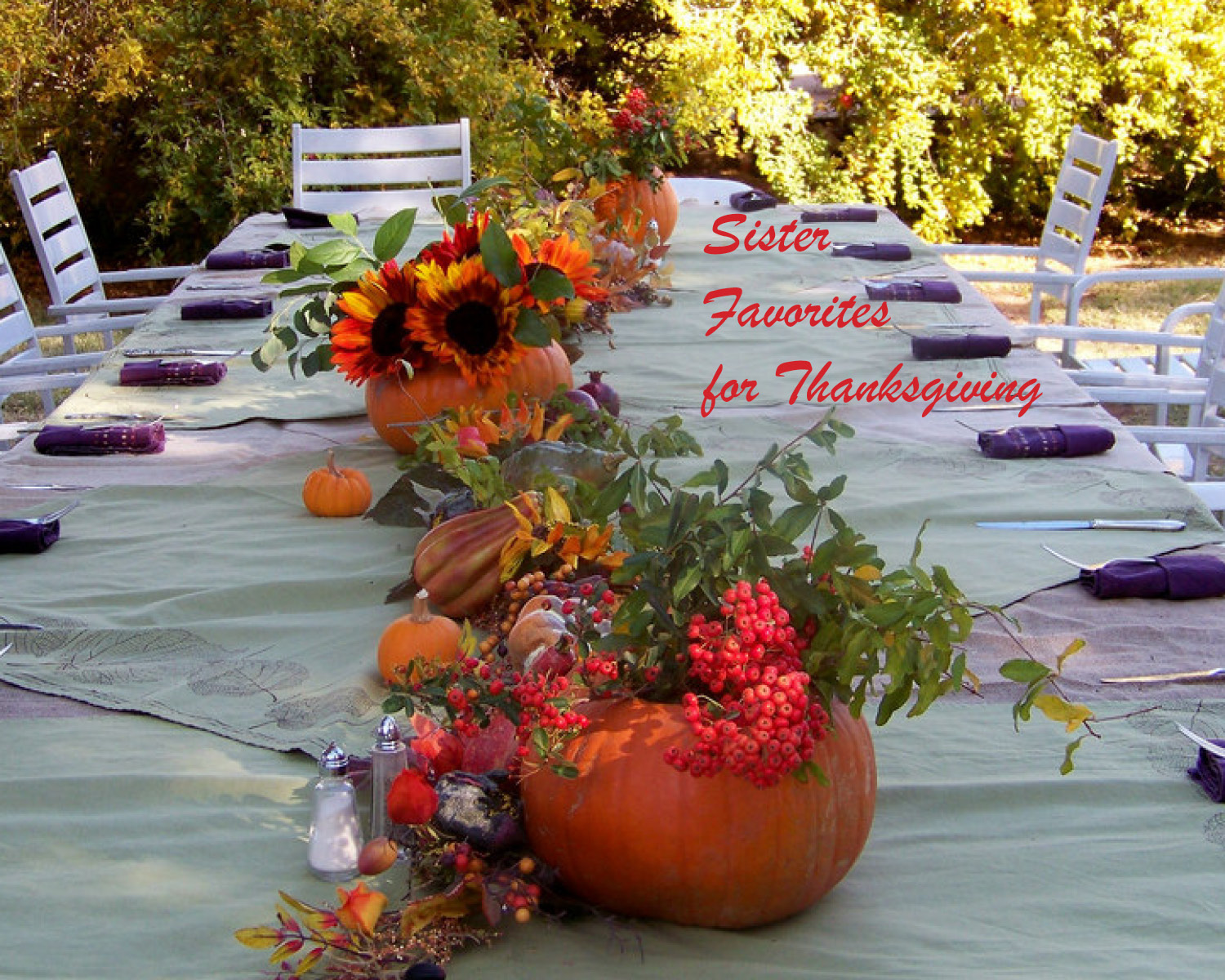 Sisters Thanksgiving Mobile Feast
Happy Thanksgiving, all Sisters, Friends, Family!
Sisters on the Fly are pretty darn good at creating superb feasts anywhere with just a bit of planning. Here is a menu for any adventurous camper on this favorite holiday of ours.
(Last year SOTF dropped their "No Dogs" rule for events (now it's the hostess' prerogative, more like) so let's start this menu out with the "Hair of the Dog" shall we?
The Washington Apple (from Sister #789, Cast-Iron Cooking with Sisters on the Fly Cookbook)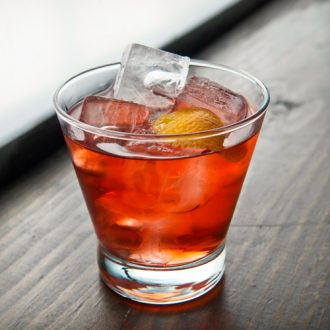 Place 1 oz. of blended whiskey (like Crown Royal),
1 oz. Sour Apple Pucker Schnapps,
1 oz. cranberry juice in a cocktail shaker full of crushed ice.
Shake and strain in a chilled glass.
It tastes just like an apple! Only one a day keeps the doctor away, though.
FISHTALES Bloody Mary (from Sister #442, Cast-Iron Cooking with Sisters on the Fly Cookbook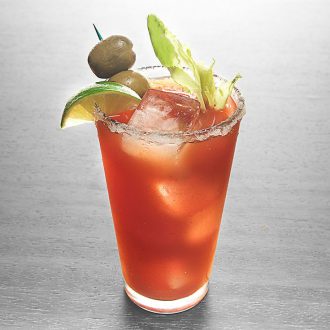 1 32-oz. bottle of Clamato juice
1 tbsp. Worcestershire sauce
1 tbsp. Tabasco
2 tbsp. dried dill weed
1/4 cup vodka (or to your liking or none)
2 limes, quartered
1 5-oz. jar giant green olives stuffed with garlic & jalapeno
Place Clamato juice, Worcestershire, Tabasco and dill weed in a serving pitcher & mix well. Add vodka & stir. Serve in glass over ice cubes & squeeze a lime quarter in each glass. Garnish with an olive or two. Cheers!
TURKEY in a Trash Can (from the Sisters #62, Sisters on the Fly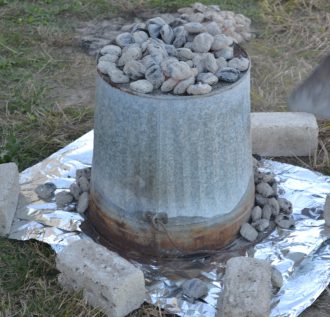 Book)
Use your own special spices to add your touch.. Seems pretty hardcore but it's E-Z, ladies!
1 20-lb. turkey
Salt, pepper, garlic powder
Roll of heavy-duty aluminum foil
10 lbs. of sand if you're camping on rocky soil not sand)
18 to 20″  wooden 2 x 2
20-gallon metal trash can (clean)
30 lbs. of charcoal
Small camp shovel
Thermal gloves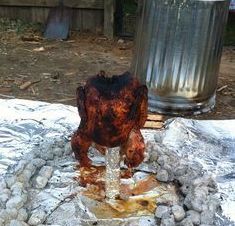 Wash turkey, remove neck & giblets, season with spices, set aside. Line a 4-foot-square area on ground with foil. (If ground is uneven/rocky, even out with sand.) In center of square drive the 2×2 in the ground leaving enough height for the bird to "sit" on it. Cover 2×2 with foil. Place turkey on 2×2 & turn trash can upside down and centered over the bird. Twist can a little to make of good seal into the sand to trap the heat. Put as much charcoal as you can on top of the can. Mound the remainder of the 30 lbs. around base of can. Light the charcoal. After coals are hot (about 30 minutes) start timing the turkey. Cook for about 1.5 hrs. Use a shovel to remove the briquettes from around the can. Use gloves to remove the can. Use the trash can lid as your serving platter!
TEXAS CREAM PECAN PIE (from Sister #268, Cast-Iron Cooking with Sisters on the Fly Cookbook)
1 cup sugar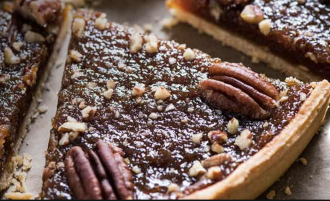 2 tsp. all purpose flour
3 egg yolks, well beaten
(reserve whites if making meringue; see note)
1 cup milk
Pinch of salt
1 cup chopped pecans
1 tsp. butter
1 tsp. vanilla extract
1 9-inch pie crust, baked
Combine sugar & flour. Add well-beaten egg yolks, milk, salt, pecans, butter & vanilla extract. Pour into a sauce pan. Cook until thick, stirring constantly. Pour into baked pie crust. Refrigerate & serve.
Meringue Topping (if making in a kitchen, not a campground):
3 egg whites, room temperature
1 tsp. vanilla extract
1/2 tsp. cream of tartar
1/2 cup sugar
Place egg whites in a bowl, add vanilla extract and cream of tartar. Beat with electric mixer at medium speed or whisk until frothy. Gradually add sugar and beat on high until very stiff peaks form. Spoon over pie. Put under broiler for 30 sec. to 1 min. until the meringue tips begin to brown.
Enjoy your Thanksgiving and let's us know if you used any of these recipes and please share any of your holiday favorites (for our next cookbook, perhaps!).