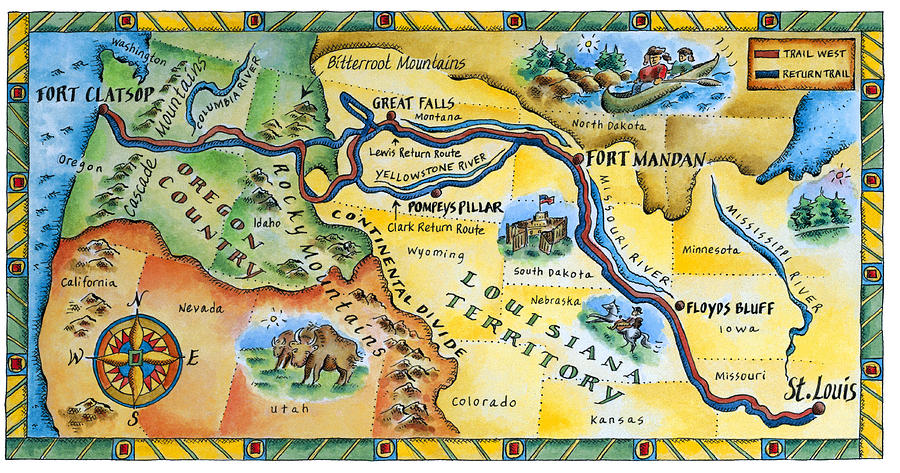 Summer Road Trip: The Lewis and Clark Trail
Follow along with us as we take on the Lewis and Clark Trail from St. Louis, Missouri to the coast of Oregon. The 32 night, 2,000+ mile trip will take us through the heartland of America and the stunning mountains across our northwestern states, following the Missouri River North through the Dakotas and West through Montana, Idaho, Washington, and Oregon.
What started as one Sister wanting to cross off a life bucket list item, has become somewhat of a monumental journey in the making. Having taken on the epic road trip of traveling all of Route 66 in 2015, the Sisters thought it would be fun to take another pulse of America's heartbeat on the Lewis and Clarke trail.
The scale of the trip has been massaged to accommodate the group, but the essence of the journey is intact. The major points of the route are plotted. The stops are confirmed and sisters are prepping to host! With each passing day, we are more excited about this journey of exploration.
See if the Sisters on the Fly are stopping at a location near you on their Lewis and Clarke trail. To attend, you can sign up to become a Sister and join in the adventure. Or stay tuned for more info on how you can visit the Sisters on the Fly when they're in your neighborhood.
Stop 1:
ST. LOUIS,MO
May 22-25
Stop 2:
BOONEVILLE, MO
May 25-27
Stop 3:
MOVILLE, IA
May 27-29
Stop 4:
FT. PIERRE, SD
May 29-31
Stop 5:
Bismark, ND
May 31-June 2
Stop 6:
MILES CITY, MT
June 2-4
Stop 7:
FT. BENTON, MT
June 4-6
Stop 8:
GREAT FALLS, MT
June 6-9
Stop 9:
SALMON, IDAHO
June 9-12
Stop 10:
LOLO, MT
June 12-13
Stop 11:
LEWISTON, ID
June 13-15
Stop 12:
HOOD RIVER, OR
June 15-18
Stop 13:
ASTORIA, OR
June 18-21