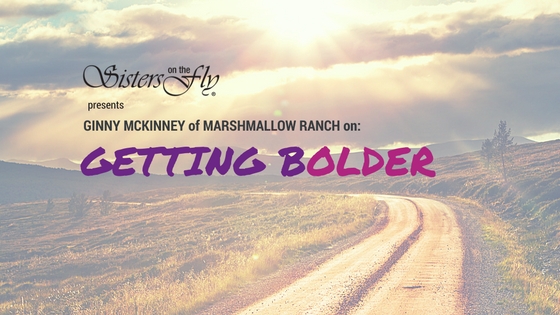 Getting Bolder: Phoenixing
It is in the midst of disasters that bold men (and, dare I say…WOMEN!) grow bolder. – Henry IV
Getting Bolder by Ginny McKinney of Marshmallow Ranch
For as long as recorded time, humans have walked into the wilderness to find something. Whether for spiritual enlightenment or personal fulfillment, solitude has enabled us to commune with a spirit higher than ourselves no matter what name you assign it. For me, it is God. It takes a certain degree of boldness to venture into unknown territory. Women who find themselves alone after losing a partner know exactly what I'm talking about. Whether it's something as big as hooking up a camper and traveling the length of Route 66 or something as simple as going out to dinner in a restaurant alone, we have to reach deep and draw on something primal. In the three and a half years since my husband died, I have heard from countless women on my blog who have had to face moving forward alone, whether after the death of a spouse or a divorce…each bringing a grief of its own and forcing them to become bolder.
My husband actually died as we were shopping for the travel trailer we were going to buy to take us into retirement. The shock of losing my life partner was immediately followed by the realization that the life I had planned died with him. I instinctively knew I needed something joyful in front of me in order to survive and I bought a small travel trailer to continue with the dream we had of traveling the backroads of America. It's what I did next that forced me to step out of my comfort zone and face my fear of being alone.
My first step toward the dream was to join Sisters on the Fly. Like many of our fellow Sisters, I saw this wonderful, brave group of women as my tribe…my people…my mentors for a life I could only barely imagine at that point in my grief. The next step was to buy a small travel trailer. We all know what a sanctuary these little trailers are, but when you are walking the fiery path of grief, they take on a special significance in our lives. I found profound solace in my little cocoon…a peaceful, safe place to go to when everything seemed so incredibly overwhelming. And, just as those greats of history, I needed to go into the wilderness in search of myself…in search of healing and peace. Just two months after burying the love of my life, I did just that.
The morning I left on my "vision quest" dawned cold and crisp. Early May in Colorado can bring hot, sunny days or it can remind us Mother Nature isn't finished with winter as blizzards blanket the mountains with early spring snows. Fickle as she is, I drove through dazzling sunlight and whiteout conditions and back within a hundred miles from home that day. But, I was determined to move forward. Something deep drove me to search for a strength I certainly didn't feel at the time…probably ever.
I crawled through the foothills of the Rockies, inching along through blinding snow blowing sideways. My initial thought was that I was certifiably crazy to be pulling a trailer in such conditions, especially given my very limited experience towing. I knew to go slow. I knew not to hit the brakes hard for any reason. I prayed earnestly as I white-knuckled my way to the San Juan Valley where the blue sky opened before me with dazzling perfection. The Collegiate Peaks took my breath away with their pristine blanket of white sparkling against the backdrop of a quintessential bluebird sky. Colorado is a stunning state and there is nothing more gorgeous than the promise of spring in the high country.
I pulled over into the scenic overlook and parked. I stepped into my camper and made some lunch, carrying it to the covered picnic area to sit in awe at the magnificent scenery before me. I sat in the stillness for quite a long time, marveling at the fact that I was actually doing this. There was a time when this would have been unthinkable…this brave step out into the world alone. I've been plagued with anxiety for much of my life. This was really big, this journey. The sense of adventure I felt was simultaneously exhilarating and terrifying.
Finally, I moved on.
I drove over Wolf Creek Pass, paying very close attention to my speed. I geared down and the heavy-duty tow package on my truck kept me at a safe speed without overheating the brakes. As I neared the base, the beautiful valley opened up before me and I could see the river winding its way through the meadows, the heavily forested slopes rising on either side to reach craggy peaks.
My husband and I lived in Pagosa Springs for a year and I had wonderful memories of this place. This was the first time I had been there since he died and I had a specific mission I wanted to accomplish while I was there.
I stopped at Treasure Falls and hiked up to get a closer look. The mist from the water crashing on the rocks below created rainbows as the spring sun bore down in the noon hour. Icicles formed on the underside of branches lining the banks of the stream and glinted with bright yellows and reds and blues as if a thousand prisms had been hung along the rocky outcroppings. As I came back down the trail, I stopped at a bend that allowed me to look down on my little camper parked alongside the roadway. I felt safe, knowing my home was with me wherever I went. My safe place was only steps away from me at any given moment as I traveled the uncharted territory of widowhood.
I camped alongside the river just outside Pagosa Springs. As often happens when you are pushing your way through a difficult stretch of life, I hit a wall. It was my first time away from everyone and I slipped into three days of fevered sleep as I suffered from a terrible cold. Soup and rest…soaking in the local hot springs and the serenity of the river soon had me back on my feet and I moved on to the real reason I had come here.
When I went to the funeral home after my husband died to make the arrangements, I asked them to please cut a lock of his hair for me to keep. (He had the most gorgeous head of silver hair you can imagine and I wanted to be able to carry a piece of him with me wherever I went on this journey.) And, I wanted to leave a bit of him in our very favorite places. There was a trail into the Weimenuche Wilderness that we frequently hiked. He told me a story once of a hike that took him deep into the woods. As he approached a hollow tree, he noticed a buzzing sound that got louder the closer he got. He soon realized there were a lot of bees swarming around and right about then a huge cinnamon-colored black bear dropped out of the tree not twenty feet in front of him. He stood stock still as the bear, honey dripping from his muzzle…angry bees thick around his head, repeatedly stomped and huffed a warning to this man who had interrupted his lunch. My husband pulled out his .357 and stretched his 6'1" frame up as tall as he could to look intimidating. After a few more vain attempts to frighten off this interloper, the bear turned and lumbered into the underbrush leaving my husband to try to get his heart back into his chest.
I had it in my mind to find this tree and bury a few silver strands of Mr. Virgo's hair at its base. I parked at the trail head early to give myself plenty of time to hike in and back out before dark. But, just in case, I had everything I needed to spend a night or two if I had to. I left a note on the dash to alert people of my presence and my intended time of return. I made sure someone knew I was doing this. I strapped my own .357 to my waist and headed into the dense forest. The trail was familiar, but we had never hiked in as far as the hollow tree so I was soon beyond my comfort zone. I kept a close eye on my surroundings as my husband had taught me. I listened carefully for any sign of wildlife. I sang as I walked along so I wouldn't surprise any early spring mama bears with their babies. Each step was made with a prayer that I would be strong enough, and brave enough, to make the next one. Finally, after three hours of hiking, I saw a large hollow tree. I have no way of knowing for sure if that was the same tree, but I felt it was.
I stopped and shrugged off my backpack. I pulled out my lunch and sat beneath the tree and ate, contemplating the stillness of the forest. Then, I pulled out the little blue velvet bag the funeral director had given me, and…for the first time since he had died…I took out the lock of my husband's hair and held it in my hands. My breath caught in my throat and tears stung the backs of my eyes as I carefully dug into the soft earth at the base of the tree and placed a few of the strands of spun silver into the ground, the sun reflecting off them just as I had remembered. I covered them carefully and found two sticks of the proper size. I removed one of the strings from the bag and tied the sticks to form a cross and placed it there to mark where part of my beloved now lay. I said a prayer and thanked God for the gift He gave me in bringing this fine man into my life. Then, I collapsed on the path and sobbed…my grief overflowing onto the ground beneath me.
Once I gathered myself, I headed back down the trail to my car. I no sooner started walking till I heard the familiar cry of a mountain lion…far too close for my comfort. If you have never heard one, they sound like a woman screaming. Not a sound you want to hear when you are walking alone in the wilderness, I assure you. I made as much noise as possible and began the three-hour hike out. The farther along I went, the farther away the lion's call became. I arrived back at the trailhead in plenty of time to get back to my camper before dark and I felt an amazing sense of accomplishment at what I had achieved that day.
I went on from there to spend the next three months in the wilderness and back roads of Colorado on my journey to find some peace after such a profound loss. I had many adventures and wildlife encounters, I met many beautiful and powerful people, and I found a strength within myself that I never dreamed I had. I came out the other side of this journey a changed woman with a clear vision of what I wanted my life to look like and I set out to make that happen. And, it has. But, there will never be another journey exactly like this one. This was my metamorphosis. I was a phoenix, rising from the ashes.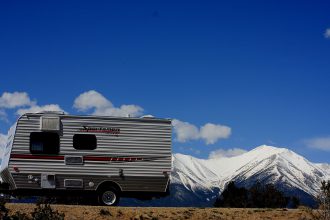 Ginny McKinney, Sister #3537
Follow Ginny, Author, Blogger, and Speaker at Marshmallow Ranch 
Stay tuned to this spot as we explore the transitions that we encounter in this march through life. I'll be featuring some amazing women as we discover the myriad ways we Sisters adjust to the changes thrust upon us. I hope you'll grab a cup of coffee and sit a spell by the fire with me.