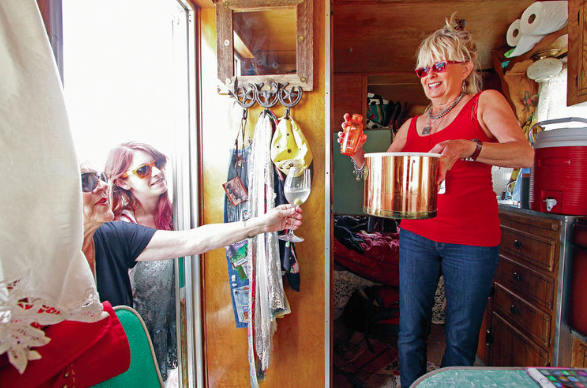 Sisters on the Fly: Stirring Up Small Towns Everywhere
Small towns across America are being treated to a parade of delightfully decorated vintage trailers, caravaning through the small towns along Route 66. The Sister on the Fly road trippers have residents and visitors alike, stepping out of their homes, business and offices to get a glimpse of the girls.
The Sisters stop along the way to display their fully outfitted trailers, take photos with curious passer-bys and field interview questions from reporters. Local papers, tv stations and radios have picked up the story and the social feeds are abuzz with beautiful images of the group's travels.
"This is an adventure a lot of us have wanted to take on for a long time," Marta, a sister from Wisconsin, said. "It's the perfect summer vacation if you ask me."
The group of nearly 300 trailers, set off from Chicago on May 12th and are making their way to Ventura, CA where the group will storm the pacific ocean in celebration!
You can check out more articles here:
http://www.santafenewmexican.com/life/features/sisters-on-the-fly-route-tour-brings-caravan-of-cowgirls/article_3e9705b3-ddf6-520c-8a0a-22ad6c1e0564.html
http://www.sekvoice.com/features/article_35eefd5e-51c1-5cae-9bf5-3342515e5ce4.html
http://kdminer.com/main.asp?SectionID=229&SubSectionID=847&ArticleID=66012
http://www.casinocitytimes.com/news/article/sisters-on-the-fly-trek-stops-at-cherokee-casino-will-rogers-downs-212959