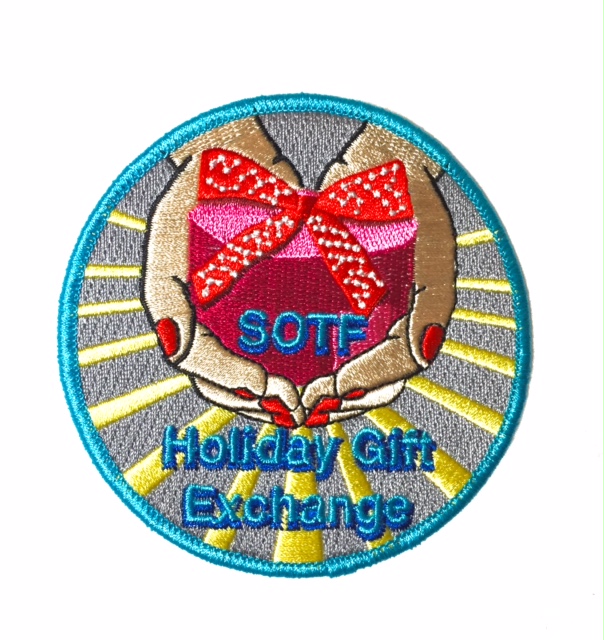 National Holiday Gift Exchange Event 2018 for Members!
ANNUAL HOLIDAY GIFT EXCHANGE 2018

Get in the holiday spirit by adding this fun virtual event to your festivities!
Widen your friendship ring here and meet a new SOTF connection & acquaintance!
Sign up to be partnered with another Sister on the Fly member for a gift exchange.
Login, fill out fields/form HERE to sign up!
(Don't just comment on that page that you "want to participate"-
actually submit your "booking" to be signed up as a participant and get started.)
Although this is not as much about "the gift" but instead about the giving and ice-breaking experience, you still must be willing to mail, ship, hand-deliver or get a gift of any kind (handmade, home-baked, store bought, ordered online, tickets to an event, a meal, an "experience," a gift certificate, you decide) to your Sister partner. *This works both ways so please do not drop the ball here. This is about warm fuzzy holiday feelings, not hurt, sad & left out holiday feelings.
We have never had a price range since gifts are sometimes homemade and handmade items ("priceless")… but some of you have asked & we think $15 to $25 is a reasonable range. If that is prohibitive for you, please do not let that get in the way!  Wing it and do what you can to make it heartfelt & sweet for less.
(Maurrie started this exchange when Sisters on the Fly was a baby, way back when. Now that we are a much bigger group, the event page will facilitate an easy signup process and transparency for all participants to see and use. Last year almost 400 members participated in this event. Wow!)
Let's get started! Here's how…
Simply sign up HERE if you wish to participate. It's FREE to sign up, of course!
2.  Sign up starts Oct. 10 and ends Dec. 5. (an 8 week sign up period)
3. This year will be different..when you sign up, the person BELOW your name on event page participant list is who you have drawn. You will need to get to know her and send a gift to her. (The person ABOVE you on the list has YOU and will be reaching out to you.) That way you are connecting with 2 other Sisters but still committing to sending ONLY one gift  to the Sister listed below you!
4. YOU WILL NOT get an email with who you have been assigned- that person is RIGHT BELOW YOU on that event page!!!
5. If you never hear from the person ABOVE you, you will need give her a shout out.
6. When you sign up, start communicating with her. Read about her in her SOTF Member Profile, ask her questions, text/call her, email her, find out what she likes, check out her Pinterest Boards.
7. DEADLINE to send your gift: Use good judgement to get it to its destination a few days before Christmas… or by a date  determined by your gift recipient.
8. Please use Member Directory for contact info on your partner first before emailing membership.
9. If you have any question you can email glenda@sistersonthefly.com for assistance.
10. Due to the nature of this exchange please make sure your MEMBER PROFILE IS ACCURATE  and up-to-date!