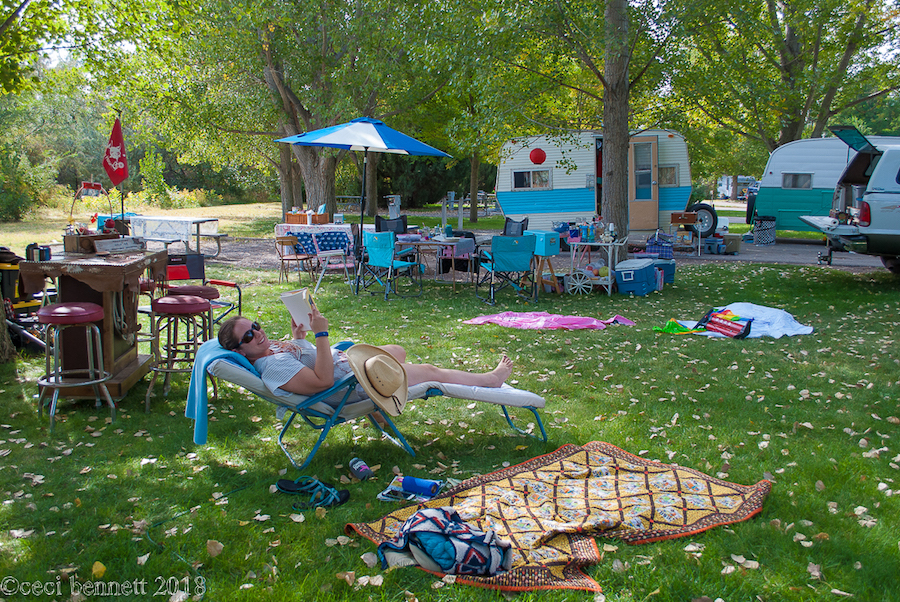 SOTF Event Recap: 3rd Annual SOTF Birthday Party & CfR Fundraiser
Idaho Sisters on the fly have a very fun and gratifying event every September that celebrates the birth of Sisters on the fly as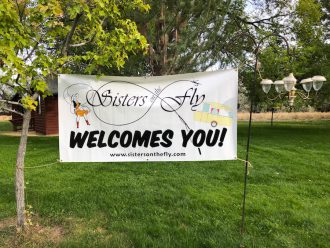 an organization (Aug. 1999) and at the same time fundraises for our local breast cancer recovery program on the eve of Breast Cancer Awareness month in October.
A very committed committee of about 6 women organized and executed the event. This year's theme was "Leather & Lace" for both decor and dress for the big Saturday night dinner & auction fundraiser. This event is always open to active Sisters, friends of members ("Sisters on the Try") and any one affiliated with the local Casting for Recovery program (past participants, breast cancer survivors, volunteers, supporters and friends of the CfR organization). There were 50 attendees- our biggest group yet!
It was held at Three Island Crossing State Park on the actual Oregon Trail and we practically camped on the wheel ruts these pioneers made on their way through Idaho to the Oregon coast. It was a gorgeous weekend weatherwise and perfect for fly casting lessons, fishing, kayaking on the Snake River, hiking on the river trails, antiquing, farmers market shopping and visiting the Oregon Trail Interpretive Center nearby.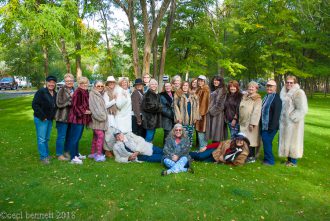 Camping was made easy in this big shady campground with attendees sleeping in vintage trailers, modern trailers, mobile homes, tents, teepees, and on-site cabins. Gals who lived close by came for the day to participate and hang out.
Make-your-own name tags provided by Sister Morgan B were a highlight; blank leather "dog tags" on a lace lanyard were provided along with leather stamping tools to create & decorate your own. Dressing up in furs for the "What's Fur Breakfast" themed meal is always entertaining as well. The big event of the weekend, though, was the auction fundraiser.
After a very fancy and filling buffet dinner under the main pavillion Saturday evening, we held the silent and live auctions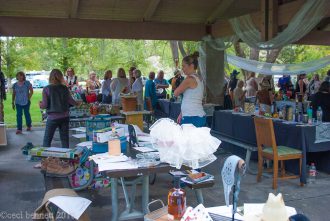 with a local professional auctioneer working the rowdy leather and lace clad crowd. The auction items for this event are always donated or acquired and brought by the attendees. Many donors created gorgeous things, gave gently used things, rounded up vintage/shabby chic/ glamping items, got 3rd party donors to donate items- anything goes here! Then we all turned around and bid on and bought what cool things our Sisters had brought.
A couple of items that brought in a lot of money: an exquisite hand etched and painted gourd bowl by a local artisan, a handsome kilim travel bag with SOTF luggage tags, and a fur coat/cape with a "Rhinestone Cowgirl" embroidery on the back! The "Biggest Donor" Award for the person whose donated item/s brought in the most money went to Melanie B, and the "Biggest Spender" Award for the person who shelled out the most money went to Tc S.! Thank you both for your enthusiasm and commitment to this event and wonderful evening.
We are proud to report we raise $5,000 for Casting for Recovery 's Southern Idaho Program, which now holds 2 free breast cancer recovery retreats; one in early June and one in mid-September. This donation really makes an impact on local Idaho women dealing with breast cancer!!! Thank you, everyone!!!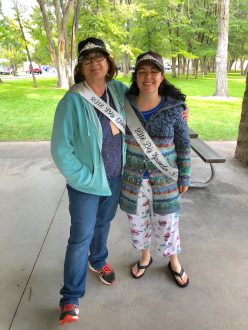 We can't wait until next year's event- same place and around the same weekend with a new theme- "Denim & Diamonds!"
We hope to see you there, Sister, to join in the fun and such a great cause.