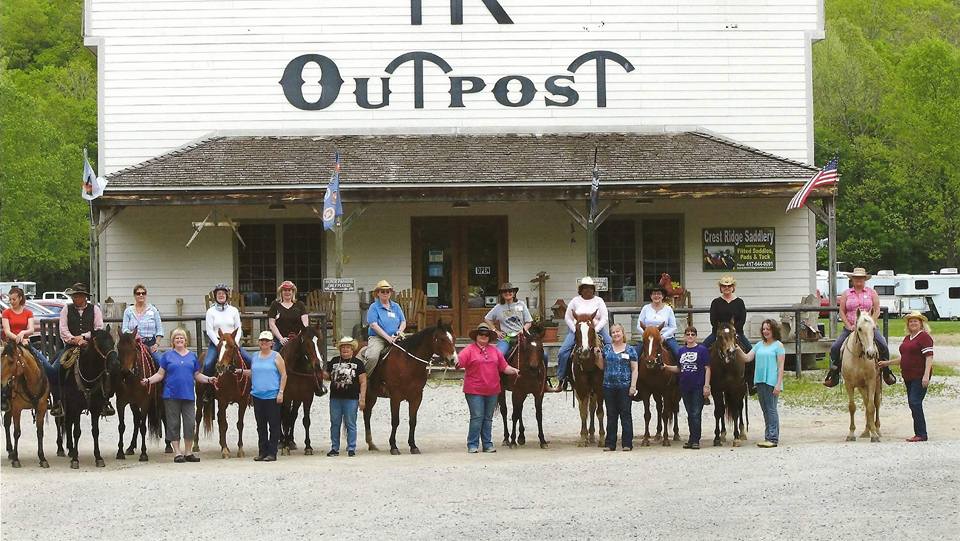 How many SOTF Members Live Where?
One big sisterhood
(Updated January 2019)
We do not have "chapters" per se. You might say we are "free-range!" We have no borders and there's no fencing around us! We are one big membership of women (a "Sisterhood") residing all over. Bigger states have bigger numbers of members, of course, and there are denser hubs of members in bigger cities and metropolitan areas. Warmer states more suitable for year-round recreation and camping typically have more members than other states.
No trailer? No fishing? No problem!
You do not need a camper trailer to join in the fun. Even I, a longtime member, use a tent or local motel to attend SOTF events and any overnight gatherings. So you don't either! (If I can do it, you can too!) And just because our name implies fly fishing, a very high percentage of us do not fish nor care to even try. SOTF has evolved quite a bit since it's origins as a small women's fishing group to what it is now- the largest women's outdoorsy social & recreational group in the nation.
Think Regional
All our members are grouped in 10 basic geographical regions to help facilitate local or regional gatherings and events and to communicate better on a colloquial level. Those regions are:
1. SOTF PACIFIC NORTHWEST REGION 
(Canada, Alaska, Idaho, Oregon, E. Washington, W. Washington)
2. SOTF WEST REGION (California, Nevada, Hawaii)
3. SOTF SOUTHWEST REGION (Arizona, Utah, New Mexico)
4. SOTF TEXAS REGION (Texas!)
5. SOTF ROCKY MOUNTAIN REGION (Montana, Colorado, Wyoming, Nebraska, So. Dakota, No. Dakota)
6. SOTF HEARTLAND REGION (Arkansas, Kansas, Missouri, Oklahoma)
7. SOTF MIDWEST REGION (Indiana, Michigan, Ohio, Minnesota, Iowa, Wisconsin, Illinois)
8. SOTF NORTHEAST REGION
 (New York, Connecticut, Rhode Island, Massachusetts, Maine, NH & VT)
9. SOTF MID-ATLANTIC/
APPALACHIA REGION (Kentucky, West Virginia, Virginia, MD, PA, NJ & DE, Tennessee)
10. SOTF SOUTHEAST/
GULF COAST REGION 
(North Carolina, South Carolina, Alabama, Florida, Georgia, Louisiana, Mississippi)
By the numbers—
Below are how many active, annual dues-paying Sisters on the fly members there are in these states & foreign countries
(as of January 2019).
CANADA- 34
Alabama- 101
Alaska- 16
Arizona- 300
Arkansas- 100
California- 885
Colorado- 286
Connecticut- 28
Delaware- 13
District of Columbia- 3
Florida- 281
Georgia- 220
Hawaii- 4
Idaho- 173
Illinois- 106
Indiana- 81
Iowa- 40
Kansas- 86
Kentucky- 52
Louisiana- 70
Maine- 30
Maryland- 56
Massachusetts- 58
Michigan- 101
Minnesota- 62
Mississippi- 36
Missouri- 162
Montana- 165
Nebraska- 26
Nevada- 75
New Hampshire- 25
New Jersey- 55
New Mexico- 75
New York- 126
North Carolina- 160
North Dakota- 14
Ohio- 145
Oklahoma- 170
Oregon- 227
Pennsylvania- 81
Rhode Island- 10
South Carolina- 70
South Dakota- 36
Tennessee- 111
Texas- 1,153
Utah- 46
Vermont- 20
Virginia- 121
Washington- 363
West Virginia- 18
Wisconsin- 65
Wyoming- 80
To learn more click HERE.
To reach out and learn more, email us.
Thanks for checking out Sisters on the fly. Hope to see you as a member soon.